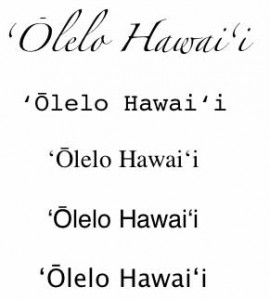 I spent a considerable amount of time and energy between 1992 to 2012 to strengthen the ability of Hawaiian speakers to use 'ōlelo Hawai'i with technology while working at UH-Hilo's Ka Haka 'Ula O Ke'elikōlani College of Hawaiian Language. That's included working with Apple, Google, Microsoft, Netscape, FirstClass, and other companies to strengthen support for the language. This page includes links to various resources that I've developed or helped develop over the years, and which are available to anyone to use. I left this work to return to Maui and begin teaching Hawaiian music at UH-Maui College, and have largely ceased activities until recently when I was asked by some friends to create a Hawaiian keyboard for Chrome OS.
Please check the individual links under the 'Ōlelo-Tech menu above for resources for Macintosh, iPhone/iPad/iPod/iOS, Windows, and Android-based operating systems.
Please note that I do not provide technical support for any of these things. I've documented how to download, install and use these resources as best I can. I apologize for the broken images – my site was hacked a few years ago and I've not yet had time to fix them.